As the once in a lifetime New York By Norse event -presented together with Noisey – is almost one month ahead, we want to give you a little taste of what London By Norse was about in our own words at that time, and we also want you to be a part of the filming in New York!
Done by Costin Chioreanu (Twilight 13 Media), the video depicts the first major event in our 25 years Anniversary celebration, which took place on March 17-19th in London. The highlights of the event were the third ever live performance of Einar Selvik (Wardruna) and Ivar Bjørnson (Enslaved) Skuggsjá, the 3 different shows we perfromed and Wardruna's second UK show ever, as well as the appearances of guests bands such as Vulture Industries and Helheim and a rare art exhibition by former Gorgoroth and God Seed vocalist Gaahl.
We will have a film crew filming the New York By Norse event and we want all of you who are coming to be a part of it!
Tickets for Gramercy Theatre are still available but moving fast. Get your ticket for this once-in-a-lifetime event now HERE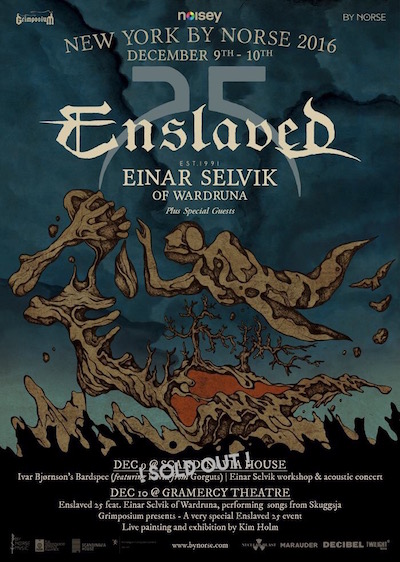 The entire two-days New York By Norse schedule:
Dec 9th @ Scandinavia House:
8pm: Bardspec (Enslaved's Ivar Bjørnson feat. Kevin Hufnagel of Gorguts)
9.30pm: Einar Selvik Workshop – "The Thoughts and Tools Behind Wardruna"
Movie: London by Norse on screens
Dec.10th @ Gramercy Theatre:
5-8pm: Exhibition by Kim Holm
6-6:45pm: Grimposium: Celebrating Enslaved 25
7:30-10:30pm: Enslaved 25, "Then and Now" – Two sets, one night:
7.30-11.00pm: Live painting by Kim Holm where the art can be bought after the show at the Enslaved Merch both, signed by artist/band.
More information about New York By Norse HERE